Professor Engr. Babagana Umara Zulum
Professor Engr. Babagana Umara Zulum was born August 25, 1969 in Mafa Local Government Area of Borno State is a Nigerian professor and politician. He is the serving Governor of Borno State in the 2019 Governorship election under the platform of the All Progressive Congress (APC). After elementary schooling in Mafa Primary School from 1975 to 1980 and secondary education in Government Secondary School, Monguno from 1980 to 1985, Zulum studied at the University of Maiduguri, where he obtained a degree in Agriculture Engineering after which he served as a youth corps member with Katsina State Polytechnic.
He proceeded to the University of Ibadan from 1997 to 1998, where he obtained a master's degree in Agriculture Engineering. In 2005, he enrolled for a PhD in Soil and Water Engineering with the University of Maiduguri which he completed in 2009. Babagana's first appointment was in 1989 with Borno State Civil Service as an Assistant Technical Officer in the State's Ministry of Agriculture. In 1990, Babagana moved into Borno State Unified Local Government Service as Senior Field Overseer and later Principal Water Engineer.
In 2000, he took up an appointment with the University of Maiduguri as an assistant Lecturer where he rose to the rank of Professor. Babagana was Deputy Dean and Acting Dean, Faculty of Engineering in 2010 and 2011 respectively. In 2011, Babagana Umara was appointed the Rector of Polytechnic. Meanwhile, he retained his teaching position in the University of Maiduguri. In 2015, he was made Commissioner of Reconstruction, Rehabilitation and Resettlement by Governor Kashim Shetima of Borno State, a position he held till 2018.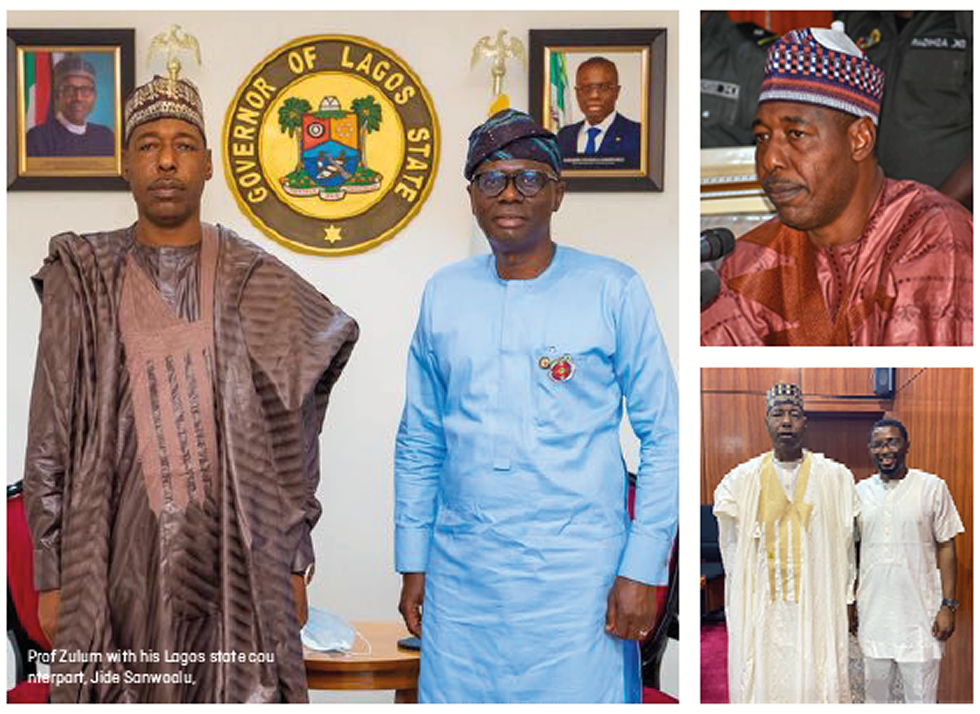 He was described by Governor Shattima as Hard working and incorruptible fellow who has not enriched himself with public treasury and has been formed despite Boko Haram threat against him.
As a commissioner, Professor Zulum rebuilt more than 10,000 houses, number of schools and hospitals in the area among others. Prof. Babagana Umara Zulum was conferred with the highest title in the engineering profession, the Fellow Nigerian Society of Engineers (FNSE) by Nigerian Society Of Engineers.
On October 1, 2018, he won the gubernatorial primaries of the All Progressive Congress for Borno State. Professor Babagana was elected to the Ofce of the Governor of Borno State at the 2019 governorship election held on March 9, 2019 with 1175440 votes. Zulum has been the target of several failed assassination attempts by the group Boko Haram His convoy was attacked by Boko Haram insurgents on July 29, 2020 on Maiduguri-Damaturu highway.
Five people were killed including three policemen. On 26 September 2020, Zulum and his convoy were again attacked by Boko Haram near Lake Chad. At least 18 people were reportedly killed, including 14 police ofcers and soldiers and 4 civilians. The death toll was later updated to 30 as more bodies were found.
Three days later, on the 29th, Zulum's convoy noticed a donkey on the road and shot at it. After the donkey exploded, insurgents came out of hiding and freed at them.
A number of insurgents were killed, whereas no one in the convoy was injured. On 22 November, Convoy belonging to Zulum was attacked while he was traveling to meet with government officials in Baga. Seven soldiers and two civilians were killed in this ambush, but the governor was unhurt. His appointment was cancelled. By the complaints of Governor Zulum, asking for mercenaries and requesting that more of Borno indigenes be recruited into the army
and civil defense corps, it is evident that among the governors who ruled Borno State since the Boko Haram insurgency, he remains the most patriotic – the son of the soil and driven by the unquantifiable love he has for his people. Governor Zulum is trying to fight a consortium of world powers. Taking the state's peculiar problem of Boko Haram insurgency into account, Zulum wowed everyone with his unprecedented achievements.
He has exhibited unique excellence in governance and has done pretty well in the area of security, which he sees as his number one priority and of course in the areas of infrastructural, human capital development, education, health, transportation regulations, economic and humanitarian support for citizens of different local governments within the state. His commitment in nipping the debilitating activities of the Boko Haram insurgent group in the bud and his drive towards socioeconomic development with his laudable actions and policies are factors that made him deserving of every recognition and accolade. His developmental policies are well felt across the strata of the state.
From civil servants to artisans to market women and even the retirees, Zulum has impacted lives within this short period of his stay in ofce. He came out boldly declaring that his own political philosophy does not agree with the fact that payments of salaries and gratuity are achievements to boast of. A compendium on the one year in office of Governor Babagana Zulum of Borno state has been launched in honors of his achievements, where he Received an Award as Best Governor in Nigeria in the year 2020 by Tell Magazine.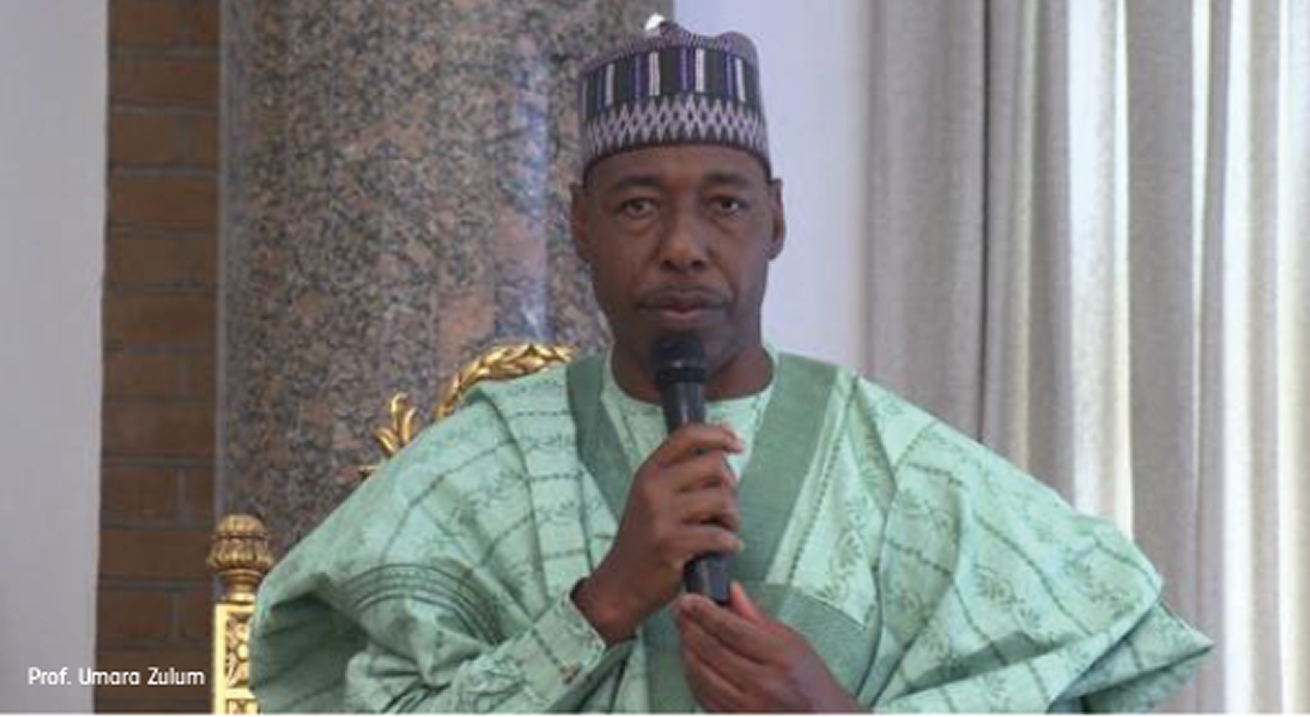 The good people of Borno state believe that with his unrivalled passion and concern for the plight of the common man, Borno state will continue to witness a His developmental policies are well felt across the strata of the state. From civil servants to artisans to market women and even the retirees tremendous shared prosperity in all of its ramifcations having him as the governor. Borno state still houses over two million IDPs forcefully chased out of their communities by Boko Haram in camps and host communities with women and children been the most afected due to their vulnerabilities. Sadly, these vulnerable groups are usually being shortchanged by some insensitive individuals and groups who in the name of rendering humanitarian intervention divert food and non-food items meant for the displaced.
Zulum has personally supervised and distributed palliatives to hundreds of thousand individuals and families in 14 local government areas.To address policy inconsistencies and lack of coordination in humanitarian response, Governor Zulum established Agency for Sustainable Development and Humanitarian Response with the mandate of coordinating activities of non-governmental organisations, among many other interventions rendered in the area of humanitarian support and social protection.
The commerce and industry sector is the backbone of the economy and its development. Hence, state-owned companies such as BOPLAS, BOSCO, Borno wire and nail industry have witnessed great transformation for enhanced services. This is in addition to construction of a new modern market in Kwaya-Kusar and market stalls in many LGAs. Agriculture, ecology and biodiversity were greatly considered as Fergie (dry season) farming, installation of rice mill Zabarmari, procurement and repair of modern farm implements, establishment of woodlot plantation, construction of drainage systems to counter erosion and flooding, 2.7 million trees raised, and many others.
He also showed his committed resolve to build Borno State of our dream, as he yet embarked on massive construction of over 6000 housing units, installed litany of electrification and transformers on notably rural communities across the LGAs. Professor Zulum has broken a jinx in Biu where he relocated the Local Government Secretariat to a more suitable site and completed the new building in a little over sixty days.
Staff quarters at the Biu General Hospital is at finishing stage. Professor Engr. Babagana Umara Zulum leadership inspires confidence through transparency, galvanizes the people to become better versions of them, and puts the interest of the majority above primordial considerations.
In a wide-circulated video, the Governor was shown on a visit to the Shehu Sanda Kyarimi primary school, in Maiduguri metropolis at 6.30 am. Can you imagine a Nigerian governor leaving his cozy bed at 6 am so he could start inspecting schools in the state? No, the only reason any of "Their Excellences'" will leave their homes that early is to catch a fight. Otherwise wild horses would not drag them out of their homes before 7am.
But here was Governor-Prof completely at ease going for school inspection at 6.30 in the morning. The only person Governor Zulum and his few aides saw, in that school was a middle aged teacher named Mrs Obiageli Mazi. After greetings, the governor asked her how long she had been teaching at the school and she said for 31 years and her salary is N35,000. This dedicated teacher impressed Professor Zulum so much that he immediately went back to his car and brought out a wad of currency notes.
He personally handed the money to Mrs Mazi, who was overtaken with gratitude, went down on her knees to thank him. In addition, the governor immediately Prof. Umara Zulum instructed one his aides to ensure that she gets promoted from her classroom teacher status to an assistant head teacher. Note that Professor Zulum took no notice of the fact that she was Igbo, a non-indigene and a non-Muslim. All he saw was a committed school teacher, who was at her duty post before all her colleagues and all her pupils and therefore deserved to be rewarded. His gift to her was a hundred thousand naira, almost three times her monthly income.
Another incident that afforded an insight into the truth of Governor Zulum's servant-leadership style was his reaction to the Jigawa youth who embarked on a trek from his native Hadejia town to Maiduguri, in order to show appreciation for the professor's exemplary style of governance. Instead of allowing Usman Zubairu to go through all that physical exertion, in a bid to hail him, the Borno Governor quickly stopped him by tweeting that though he appreciated Usman's 'courageous mission' he should abort it and offer silent prayers for him instead. These are truly exemplary because all those for whom some youths engaged in these crazy trekking's did nothing to stop them.
They allowed them to surfer all that needless exertion because it showed how much they were appreciated by their masses. It is remarkable, although not many are aware, that the governor started receiving rare awards under a year in office. One of them from the Nigeria Union of Journalists (NUJ) in Borno State, a critical group known to make no pretense about its watchdog disposition. Justifying the award given to the governor, Comrade Bulama Talba, chairman of the Union said:
"We compared Governor Zulum's performance with those of all Governors serving their first term in office.
To our amazement, we discovered without the slightest doubt, that we could only compare Zulum's achievements with those of some Governors in their second term. His achievements in the first quarter were shocking to us". His visit to Gubio and Magumeri made him to approved reconstruction of the LGC Secretariat's and other buildings burnt down by the insurgents in August 2019 while inaugurating high powered committees on verification and biometric data capture of LGC staff and teachers of primary schools across the 27 LGAs of the state apart from distribution of security vehicles to security agencies.
The landmarks of the administration, the number of internally displaced persons (IDPs) rehabilitated, the impact of the housing delivery system in place, the quality of teachers and the impact on the future of the young ones, the standard of healthcare available to the people, especially at the primary level, the quality of infrastructure place, the number of homes with access to potable water, and how the administration's policies impact the rural dwellers, etc. These may not be accomplished without strong and effective institutions capable of outliving the Zulum-led administration.
Governor Zulum has remain eventful in physical achievements and manpower It is remarkable, although not many are aware, that the governor started receiving rare awards under a year in office. One of them from the Nigeria Union of Journalists
(NUJ in Borno State, a critical group known to make no pretense about its watchdog disposition. MILESTONE – PERSONALITY
development as evidenced on ground, but more pronounced and more eventful is his brutal frankness on the ills confronting the nation and the need for a change. There would be no greater reward than being remembered for raising Borno State from the ruins, and posterity would also accord him a place of pride.